We had the fortune of visiting Cali together a few years ago while traveling for our graduate program, so it was a pleasure to talk to someone from there that reminded us of that little piece of heaven located in the south of Colombia. We met Camila through Stephanie, as they did their undergraduate studies in architecture together and have kept in touch since then. When we talked to her, Colombia was still in what the government called
Obligatory Preventive Isolation
due to the Covid-19 Pandemic, so she was still working from home.
The more women we interview around the world from different professional disciplines working under the umbrella of urban design, the more common ground we find in our winding paths within this field. In Camila's cast, she graduated as an architect, and even though she had high hopes of being an emblematic architect, she understood, in the end, the importance of the profession, to design for other people and not for ourselves.

Camila is a recent graduate with a Master's in Urban Design from the National University of Colombia and is now working for the Planning Office of Palmira, a city near Cali. Palmira has a greater expanse of rural area within its limits compared to Cali, so she shared with us some of the differences in working in the public sector of both cities. Her work consists mainly of creating policies from the ground up, highlighting the importance of communicating to residents their right to the city.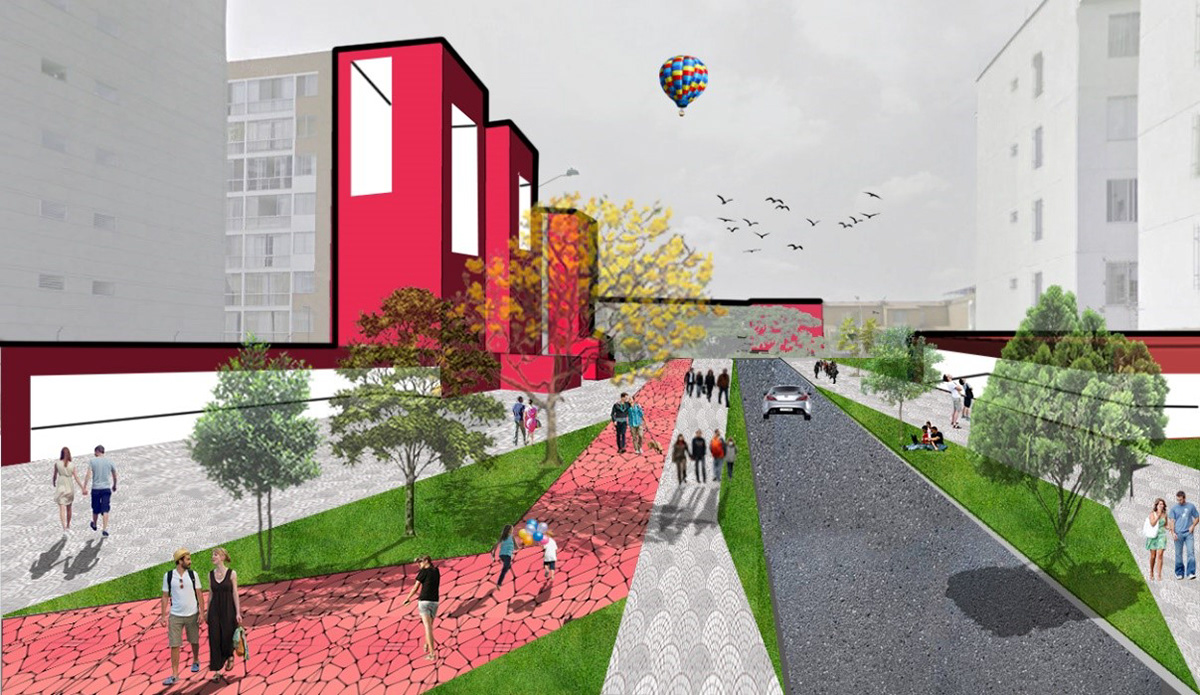 Photo montage of the transformation of the gate in
Valle del Lili
and
La Flora Urbanization
with urban strategies. From Camila's dissertation
"From the armored city to urban life: Socio-spatial reconfiguration of urban residential enclosures"
Besides chatting about her current work, she shared her master's dissertation with us
"From the armored city to urban life: Socio-spatial reconfiguration of urban residential enclosures" (
De la ciudad blindada a la vida urbana: Reconfiguración socio espacial de los encerramientos residenciales urbanos

)
where she discussed the problem of the gated communities in Latin America, the default solution implemented for planning many cities. It was interesting to see a new approach to the fence that surrounds residential units where many Caleños (people from Cali) live. She proposed spaces that enrich the urban life of neighborhoods, like gyms, small commercial units, and  public spaces, among others. While this is only a concept now, we hope this idea grows with time as it would make great improvements to the quality of urban life for many.
Talking with Camila leaves us with a sense of hope for the present and the future. Because of the current collective emergency the world has been facing in recent months, we have started to value the places we inhabit, not only our home but the public spaces available to us. As she says, we took for granted those spaces before and now we understand how important they are in improving the social fabric of the city. Well, we guess our work as urban designers just became even more crucial now.
When we traveled to Cali together in 2018 we visited Camila's favorite space in the city, Boulevard del Rio
All images are property of
Maria Camila Baquero Calderon & Kollectivo Design Group
(unless otherwise states).